CHRISTMAS BUCKET 15pcs KFC Strips, 2pcs large fries + 1l Pepsi for Free
от 24.95 лв.
JINGLE ZINGER BOX Jingle Zinger, 2 hot wings, large fries, small corn
от 19.40 лв.
JINGLE ZINGER MEAL Jingle Zinger, large fries, beverage 500 ml
от 17.40 лв.
JINGLE ZINGER Zinger/Fillet, iceberg salad, grilled bacon and crispy onion, cheddar patty, meat and BBQ sauce in a shiny potato bun

от 12.90 лв.
DUET MEAL Zinger/Filet burger, Twister, 6 Hot Wings and 2pcs big french fries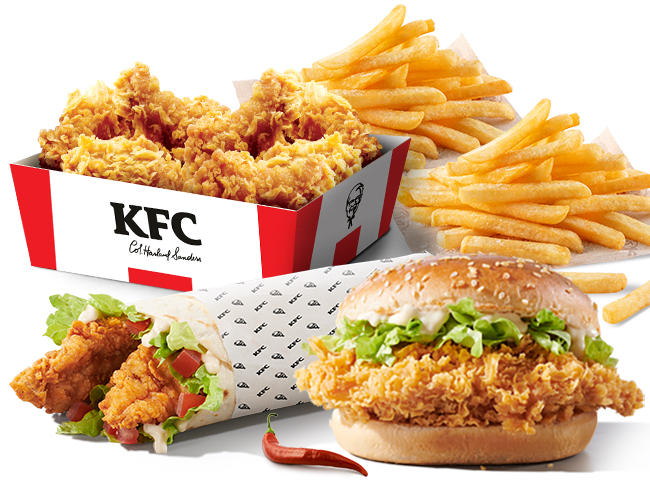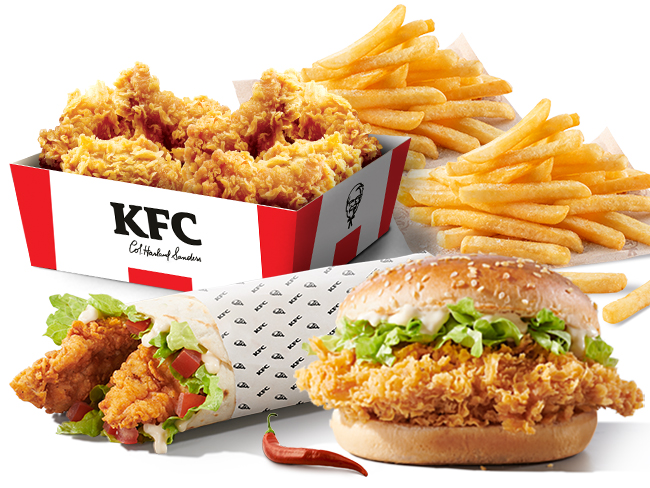 от 19.95 лв.
ROCKER BUCKET FOR TWO 12 hot wings, 2pcs. rocker sandwich, 2pcs. regular fries
от 19.95 лв.
Currently not delivering to Briz, Aksakovo, Vinitsa, Trakata and Asparuhovo.
Dear Customers!

Our highest priority is the safety and health of our customers, both in everyday life and in crisis situations.
We do our best for your safety every time you visit or order online from us.
• We encourage our customers to use home delivery through
• We deliver food in a closed paper bag and a disinfected delivery bag.

• Couriers disinfect their hands before and after each order is placed.

• As part of our service, you can order contactless delivery through our Foodpanda or Takeaway affiliate platforms. Please order, pay online and leave a comment that you would like contactless delivery. The courier will leave your package at the door without further contact with you.

• Do you live outside the city?? With our FastFood affiliate platform, we now deliver our unique taste to your door, without leaving your home.

• We monitor the health of our employees and, in the case of the slightest suspicion or illness, send them on leave and refer them to a doctor.

• We have re-qualified our team members to our strict safety standards, including an inviolable and frequent hand-washing policy.